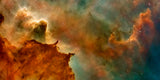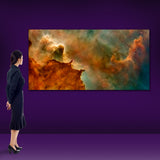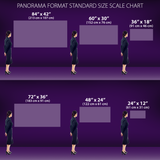 Looking for an exact size?
Email us for custom sizes and materials including:
• Stunning Metal Prints
• Gallery quality Acrylic Prints
• Amazing Framed Backlit Prints and much more!
Tell us about your cosmic vision and we'll make it a reality!
Email us at: CustomPrint@BigBangPrints.com
Nebula Carina VI
FREE SHIPPING within continental US
These great clouds of cold hydrogen resemble summer afternoon thunderheads. They tower above the surface of a molecular cloud on the edge of the nebula. So-called "elephant trunk" pillars resist being heated and eaten away by blistering ultraviolet radiation from the nebula's brightest stars.
Credit: NASA, ESA, N. Smith (University of California, Berkeley), and The Hubble Heritage Team (STScI/AURA)