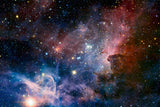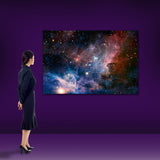 Looking for an exact size?
Email us for custom sizes and materials including:
• Stunning Metal Prints
• Gallery quality Acrylic Prints
• Amazing Framed Backlit Prints and much more!
Tell us about your cosmic vision and we'll make it a reality!
Email us at: CustomPrint@BigBangPrints.com
Nebula Carina III
FREE SHIPPING within continental US
This broad panorama of the Carina Nebula, a region of massive star formation in the southern skies, was taken in infrared light using the HAWK-I camera on ESO's Very Large Telescope. Many previously hidden features, scattered across a spectacular celestial landscape of gas, dust and young stars, have emerged.